Special Event Coming Up …
Free Workshop with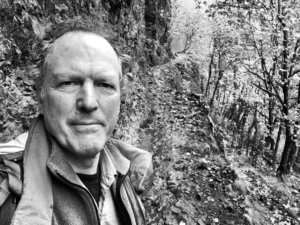 Poet Laureate Kim Stafford
Saturday, March 16
2 to 4 p.m.
FREE
Oregon Poet Laureate Kim Stafford will offer a free workshop "First Thought, Best Thought: Taking a Running Start at Poetry"  at the Library.  This event, offered in conjunction with the Hoffman Center for the Arts PoetryFest 2019, is free and open to the general public.
Workshop:  First Thought, Best Thought
Why write poems in an age of technology and haste? Well, writing a poem can help us slow down, think, wonder, notice, and jot a few words to improve our sense of well-being. And writing can deepen our connections with our inner lives, with each other, and with the world.
All around us, the daily news inflicts attrition because it is incomplete—it give facts, events, quotations, but without offering meaning. Writing a poem can ease this injury, providing ways to "talk back to all that darkness" by exploring questions, by writing remedies, thereby making connection between what we have experienced and what we might say.
Kim Stafford was born and grew up in Oregon. He is the author of a dozen books of poetry and prose, and editor of half a dozen others. His book Having Everything Right: Essays of Place won a citation for excellence from the Western States Book Awards in 1986. Stafford has received creative writing fellowships from the National Endowment for the Arts, a Governor's Arts Award, and the Stewart Holbrook Award from Literary Arts for his contributions to Oregon's literary culture. His work has been featured on National Public Radio.
Stafford's most recent book, 100 Tricks Every Boy Can Do, is an account of his brother's suicide, and the struggle of his family to live beyond. It is a book where "the story reaches back through the difficult end to grasp the beautiful beginning, like pulling a venomous serpent inside out."
Seating for the workshop is limited to 24 participants and will require advance registration for both the paid and unpaid workshop registrants for PoetryFest.
Participants are asked to bring pencil and paper.  After introductions, we'll dive into exploratory writing.
From 4:30 to 5:30 pm the Library will host a reading by Stafford, which will be held at the Hoffman Center for the Arts (across the street from the Library).
Feel Like Watching a Movie?
Stream now for FREE with the new Library streaming service called "Kanopy."
Choose from more than 30,000 films for free.  Everything is on-demand, right from your own computer, smart TV, mobile device or tablet.  All you need is your library card and you can start streaming instantly.  No waiting for films — make a selection and it immediately begins playing.  View your movie as many times as you want for three days.
You can stream as many as six movies a month and the app will keep track of how many films you have left for the month. Plus, your progress on each film will be saved if you can't watch it all in one sitting. The app will also create a watchlist for you to track what movies you want to see next.
Kanopy showcases more than 30,000 of the world's best films, including award-winning documentaries, rare and hard-to-find titles, film festival favorites, indie and classic films, and world cinema with collections from Music Box Films, Samuel Goldwyn, The Orchard, The Great Courses, PBS and thousands of independent filmmakers.
Sign up for the app now
Friends of North Tillamook Library Annual Meeting
The Annual Meeting was held on Saturday, January 19 and there was an excellent turnout.  In addition to the business on the agenda, we elected new officers and board members, and thanked Madeline Olsen for her outstanding service as President of the Board.  Madeline stepped down from that position but will continue to be involved with the Library by heading up the Annual Book Sale Committee.
In the photo above, the Board presented Madeline with a thank you gift with particular meaning to the Manzanita community.  The four framed handmade pieces of art (spelling out "READ") previously resided in the book section at the now-closed Cart'M ReFindery thrift store.
Sign Up to Receive the Library Newsletter
If you are already a member of the Friends of the Library, you will automatically receive our electronic newsletter each month.
If you are not a member of the Friends of the Library, please consider purchasing a membership for yourself and/or your family.  Your support is vital to our success and our ability to continue maintaining our beautiful facility.  Click here for your Membership Form and bring it or mail it to the Library.
---
---
North Tillamook Library in Manzanita
571 Laneda Avenue
Manzanita OR, 97130
503-368-6665
Email Us at – bhua@co.tillamook.or.us
Library Hours
Monday, Wednesday and Friday:   12:00 pm to 5:00 pm
Tuesday and Thursday:                    12:00 pm to 8:00 pm
Saturday:                                             10:00 am to 3:00 pm
Free WiFi is always available in the Library or outside on our grounds.